(281) 857-6537
Roof Leak Repairs
Sugarland roofing projects vary from one customer to the next. While few jobs are identical, all of our projects follow a similar theme: We use quality roofing materials and reputable brands. Whether you want a slate roof or a composite roof, we'll recommend roofing materials that have met our standards for quality. We do not believe in cutting corners or using products that won't hold up well under Sugarland's conditions. Even if you are on a budget, quality roofing products are available at reasonable prices.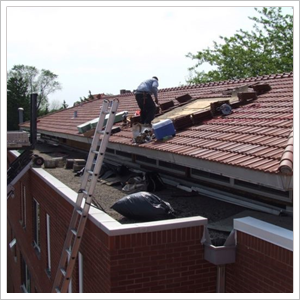 Types of Roofing
Sugarland homes, apartments, condos, and industrial buildings have unique roofing requirements. Whether the roof needs to serve a functional purpose or conform to a neighborhood's existing style, choosing the right type of roofing is crucial. Among the more common Sugarland roofing types are:
Tile and Slate – Tile and slate roofs are becoming more popular in Sugarland thanks to their durability and beauty. Because tile and slate are both heavy materials, homes must be built to support this weight. Not all existing homes in Sugarland can handle the weight, making it important to carefully evaluate your house's structural integrity before opting for these heavier materials.
Metal – Metal roofing is commonly used in commercial construction and is also becoming an attractive alternative for residential homeowners looking for a lighter roofing material. New styles have been introduced, shattering your preconceptions of what metal roofs look like.
Composite – Composite roofing remains one of the most affordable (and popular) types of roofing in Sugarland. Available as shingles or in rolls, composite roofing is attractive and relatively fast to install. Improvements have been made with high impact and reflective roofing materials available.
Sugarland Roofing Services
We offer a number of roofing services including:
Roof inspections
Roof leak repairs
Shingle replacements
Structural roof repairs
Roof cover-ups / temporary roof repairs
Roof installation (new construction and remodels)
Re-roofing due to wear and tear
Re-roofing after house fires and other damage
Roof demolition